Nissan Certified Pre-Owned
Benefits Include:
7-Year/100,000-Mile

Limited Powertrain Warranty

7-Year/100,000-Mile

Roadside Assistance Coverage

167-Point Inspection

Genuine Nissan Service & Parts
Plus More...
View Certified Vehicles
Get Approved
Need help financing the car you've always wanted? We can help! We work with multiple lenders and will help get you the best loan possible.
Apply Now
Our Reviews
Best dealership ever! Bought my Murano 2 yrs ago and had such a great experience with Price Leblanc's, Tony Ramos, that I brought my daughter back to them last week when she was ready to buy car on her very own for the first time! Once again, Tony and his awesome team (Colby & Tom), took care of us and made her first experience one to remember! Thanks so much guys, you all are the best!! Shannon and Lauren
Price LeBlanc Nissan is by far one of the best car dealerships I have ever dealt with. My Salesperson Liz Sheets, their Finance Team and the rest of their team who assisted me were incredibly efficient, helpful, professional and truly seemed to have my best interest at heart. Liz was always a step ahead of me! I am forever grateful for the gracious way they patiently assisted me till I was satisfied with my purchase. My new Altima is perfect, and I would like to thank Liz Sheets and the Price Leblanc Nissan team for their outstanding service. I would highly recommend this excellent team!
Thank you, Ivan Villemarette, for helping us out with the purchase of our new Nissan Pathfinder. We appreciate your honesty and friendly salesmanship. We're very happy and satisfied with the customer service at Price LeBlanc Nissan. Mauricio and Armida Salinas
Came in today looking for an Altima. Was met by Brett Bordelon. He was very nice, knowledgeable, and was a pleasure to deal with. We worked a trade in that was very fair, sealed the deal on the Altima, and financed in 2 hours flat. Which felt even faster. Very impressed with this transaction. Will definitely keep Price LeBlanc and Brett in mind for future purchases. - Casey
After having a not so wonderful experience at a dealership closer to where I live (who is not affiliated with Price Leblanc Nissan), I was referred to Price Leblanc by a friend, so I called them and told them I wanted to speak with someone who could sell me a car, today. They put me on the phone with Oscar. I explained exactly how much money I had available to put down, what I had to trade in, exactly the make/ model/ package of the vehicle I wanted, and exactly the price I wanted to pay for it, and that I was on my way. When I pulled up, I was greeted very professionally by multiple staff members. Mr. Oscar had a vehicle ready for me to test drive and an appraiser ready to appraise my vehicles. I never felt forced or pressured into anything. All of the staff were professional, kind, patient and knowledgeable. There was no going back and forth. I was told the prices they could give me with explanations on them. What they gave me for my trade-ins was very fair. They couldn't get exactly the price I wanted on the car I wanted to buy and explained why (but they came very close). When it came time for the financing, I was educated on my options. When I didn't understand something, I always got a very knowledgeable answer. It almost felt as though they were trying to make up for the not so great experience I had somewhere else. There isn't enough space here to type about the wonderful experience I had with Price Leblanc Nissan. If y'all read this- thank you so much Mr Oscar and the team at Price Leblanc!
Just purchased my 3rd Nissan Truck from salesman Conrad Ourbe. Quickest one yet. 2020 XD Titan 4x4.....! My favorite truck salesman! Go see Conrad Ourbe for the best no hassle experience vehicle buying!
I purchased floor mats for my new Rogue and Steve in parts was very friendly and helpful. As I was leaving dealership with my mats, Demel, new car sales was at front door and offered to take mats to my car and put them in-which he did. His kindness very much appreciated.
I bought a new 2018 Rogue yestetday and whole process was exceptional and so organized.Entire staff very friendly. My salesman was Conrad Oubre and he was so professional and friendly. I received excellent instructions on operation of my new vehicle and was encouraged to call or return for any questions. thank you Conrad
I was greeted by Oscar with a warm smile and friendly hand shake. Although, we aren't ready to purchase anything for our teenager just yet, he wasn't one of the "pushy salesman " that nobody likes. We will definitely return to see Oscar in the future. Danielle
This is the second car I purchased from Price LeBlanc Nissan one used and just bought a new SUV Both times worked with Conrad Oubre and had a great experience as with all the staff on site I would recommend them to anyone who is looking for a car. Very courteous and thorough.
Bought 2017 Maxima and Colby Soileau was great to work with. He went well above our expectations and was very knowledgeable about the vehicle. Reed was also great to work with no hassle or pushy service.. Thanks for making this a pleasure to do business. It was worth the drive from Lafayette.
Have had nissan cars since 1998 they last forever and drive like a dream new or old. Will always buy nissan as long as can.
I purchased a black 2017 Nissan Titan Platinum Reserve. I got roughly 1000$ off MSRP and the experience was not stressful. I would recommend visiting their dealership if you're interested in a Nissan in the future.
Conrad Oubre you're the best! So nice to freak with a dealership that still hasleeping integrity.. Will definitely recommend you to anyone in the market for a Nissan. Thanks for making this as enjoyable as our could be.
My service with them was the best and lamoyn williams did everything to get me into my new 2016 maxima,a big thank you also goes 2 Brent who helped with financing yall guys are the best....
Had problem with my SXM apps. Service Advisor Abigail Aycock was THE most helpful and professional person I have ever met. Solved my issues. Thanks so much Nissan for the great service you provide.
My wife and I were in the market for newer vehicles but our budget didn't allow us to get brand new vehicles. Needless to say, we both purchased practically new jeeps! Her a 2015 Cherokee Sport, and me a 2016 Compass Sport! We've never had such an amazing and stress free experience purchasing vehicles!
I was looking for a bigger SUVs. Contacted Conrad oubre who I brought my 2013 rouge from. He contacted me with a new 2015 murano. I love it. Conrad is so great to deal with. So polite and makes me feel special. He went over everthing with me, I'm not up to date with tecknonagy. When I went home I knew how to work everthing
Where shall I start. The staff was overall knowledgeable and helpful in finding me the best vehicle. The customer service was outstanding. From front to back from showroom to service area was extremely clean and neat. My sales person and finance manager work together with me for t the best deal possible. I'll bought multiple new and used vehicles at LeLblanc Nissan and have always been pleased. I would definitely recommend this place to anybody looking for A great buying experience.
I and my husband was very satisfied with the service we received. It was a very simplified process and we were given the most help possible from Mr John. He is very knowledgeable of the products he represents and recommends. He has a passion for helping his customers and would be a valuable person to know when selecting another vehicle.
John Porter is the definition of customer service! I went to Price LeBlanc to price the Nissan Rogue and its notes, then a few hours later I walked away with a brand new 2015 Nissan Rogue. John treated me fairly, listened to my concerns, and worked quickly to meet my needs! I will definitely recommend John Porter to anyone! Proud to be a part of the Leblanc Nissan family!
John and I drove from Alexandria. LA to buy a car from Price Leblanc Nissan. We were introduced to John Porter and two hours later we were driving our new car home. John Porter was easy to work with and made my car buying experience smooth and fun. Would not hesitate to make John Porter and Leblanc Nissan my number one dealership! Thank you John Porter and Chad in Finance. Also, a big Thank You to Paula Campbell in the Service Department. My car's service records looked great.
My husband and I went to several dealerships looking for just the right car, many were over priced, pushy, and just wanted us to purchase whatever car they thought we should get. However, when we went to Price Leblanc Nissan, they had a whole bunch of really nice vehicles to choose from, they didn't push us into anything, and they did everything they could to get us into the car we wanted. It was a great experience, and I will definitely be recommending Price Leblanc Nissan to anyone I know who is getting ready to make a purchase for a new or used vehicle.
Thank you Conrad Oubre and Leblanc Nissan! This was by far the best experience we have had buying a new vehicle. Mr. Oubre's knowledge of the 2014 Nissan Armada was second to none. Leblanc Nissan's facilities are #1 and selection of vehicles were great. The staff is very kind and welcoming. The price of the purchased vehicle and trade-in was perfect. We will be returning customers and will be recommending friends, family, and co-workers to visit Conrad Oubre and Leblanc Nissan.
Conrad very patiently worked with my husband and me as we decided which Pathfinder would be "perfect" for our family. Conrad contacted me as soon as he received the exact vehicle we were looking for, and made us a wonderful offer. I feel very comfortable recommending Conrad Oubre to any of my friends and family. I look forward to working with when we need to replace another vehicle.
Welcome to


Price LeBlanc Nissan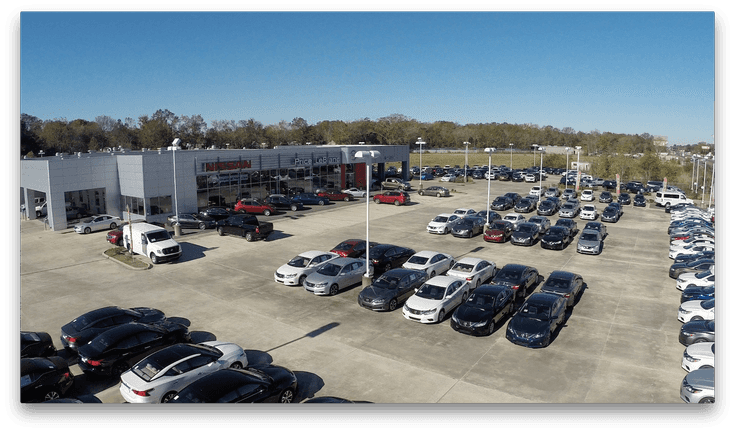 When you choose this dealership, you choose a lifelong partnership with your dealer. We are committed to helping you find the right vehicle for you as well as preserving the performance, safety, reliability, and long-term value of your vehicle purchase. You can count on this dealership for an opulent service experience from the moment you enter our showroom. Visit us today at our address — our seasoned professionals are ready to answer any questions you may have.
This dealership strives to provide the best vehicles and service possible to the dealership area. Or experienced sales and service staff is available to help you find and maintain your next vehicle. Visit our showroom today and let us help you find your dream vehicle!