As the temperatures increase and so does the state's re-opening, we sure hope more than ever that you're staying safe here in Gonzales, LA. At the same time, we know that more and more people are headed back to work, which means their cars probably need a bit of upkeep with a
service appointment
before that regularly hit the road again. We know that this can be expensive, especially in these unprecedented times, which is why we have plenty of discounts for you at the moment! In the blog post below, learn all about the June 2020 service specials at Price LeBlanc Nissan.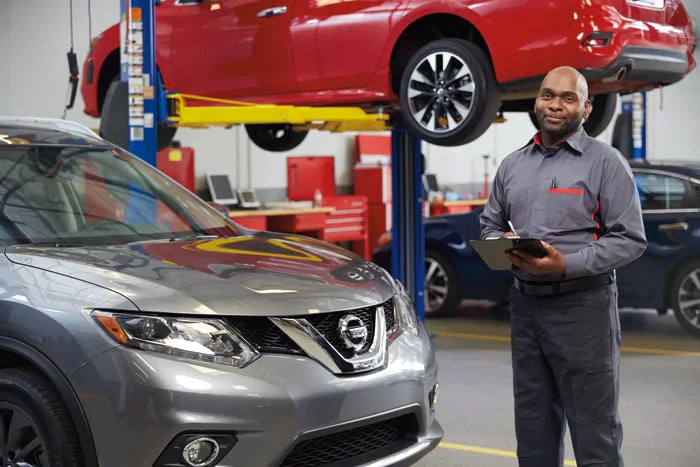 Don't forget that we care about your safety in addition to your savings, as you can find out about our No Contact Drop-Off Service
here
. June offers another great new set of offers to help you save a few bucks as you return to work, so be sure to give them a look before you
schedule service online
. Our June 2020 service specials are as follows:
Tire Rotation & Balance $49.95*
Genuine Nissan Battery Replacement & Installation $25.00 Off**
Computerized Wheel Alignment $89.95 Off***
Nissan Value Advantage Brake Service $30.00 Off****
Nissan Recommended Services 10% Off*****
Oil & Filter Change $10.00 Off******
Replacement Wiper Blades $5.00 Off******
Parts & Labor Bonus*******
We hope that you're staying safe in Gonzales and Baton Rouge no matter what your situation is at the moment! You can learn more about our service specials
here
or schedule a service appointment with us
here
. As always, click
here
to ask us any questions!
*Certain restrictions apply. See dealer for details. Price and offer availability may vary by model. Taxes and fees additional. Must present coupon to redeem. No cash value. May not be combined with other offers. Void where prohibited. Nissan vehicles only. Ends 6/30/20
**Certain restrictions apply. Price and offer availability may vary by model. Taxes and fees additional. No cash value. Must present offer to redeem. May not be combined with other offers. Nissan vehicles only. Void where prohibited. Includes complete starting and charging system test. Ends 6/30/20
***Certain restrictions apply. Price and offer availability may vary by model. Taxes and fees additional. No cash value. Must present offer to redeem. May not be combined with other offers. Nissan vehicles only. Void where prohibited. Ends 6/30/20
****Excludes Brebmo Brakes. Certain restrictions apply. Price and offer availability may vary by model. Taxes and fees additional. No cash value. Must present offer to redeem. May not be combined with other offers. Nissan vehicles only. Void where prohibited. Note: Titan and Armada slightly higher. Ends 6/30/20
*****Offer only applies to Manufacturer's Recommended Scheduled Maintenance services. See Owner's Manual for maintenance schedule details. Certain restrictions apply. See dealer for details. Price and offer availability may vary by model. Taxes and fees additional. No cash value. Must present offer to redeem. May not be combined with other offers. Nissan vehicles only. Void where prohibited. Ends 6/30/20
******Two Value Advantage Blades only. Certain restrictions apply. See dealer for details. Price and offer availability may vary by model. Taxes and fees additional. Must present coupon to redeem. No cash value. May not be combined with other offers. Void where prohibited. Nissan vehicles only. Ends 6/30/20
*******Offer only applies to services that include labor. Discount based on individual dealer's pricing guide. Certain restrictions apply. See dealer for details. Price and offer availability may vary by model. Taxes and fees additional. Must present coupon to redeem. No cash value. May not be combined with other offers. Void where prohibited. Nissan vehicles only. Ends 6/30/20