Summer is in full swing, which means you're probably itching to hit the road and get out of town on a little vacation. Here at Price LeBlanc Nissan, though, we understand that getting your vehicle in tip-top shape for some extra driving can be pricey. That's why we offer great monthly service coupons to drivers at our Gonzales, LA dealership. In the blog post below, learn about July's parts and service specials at Price LeBlanc Nissan.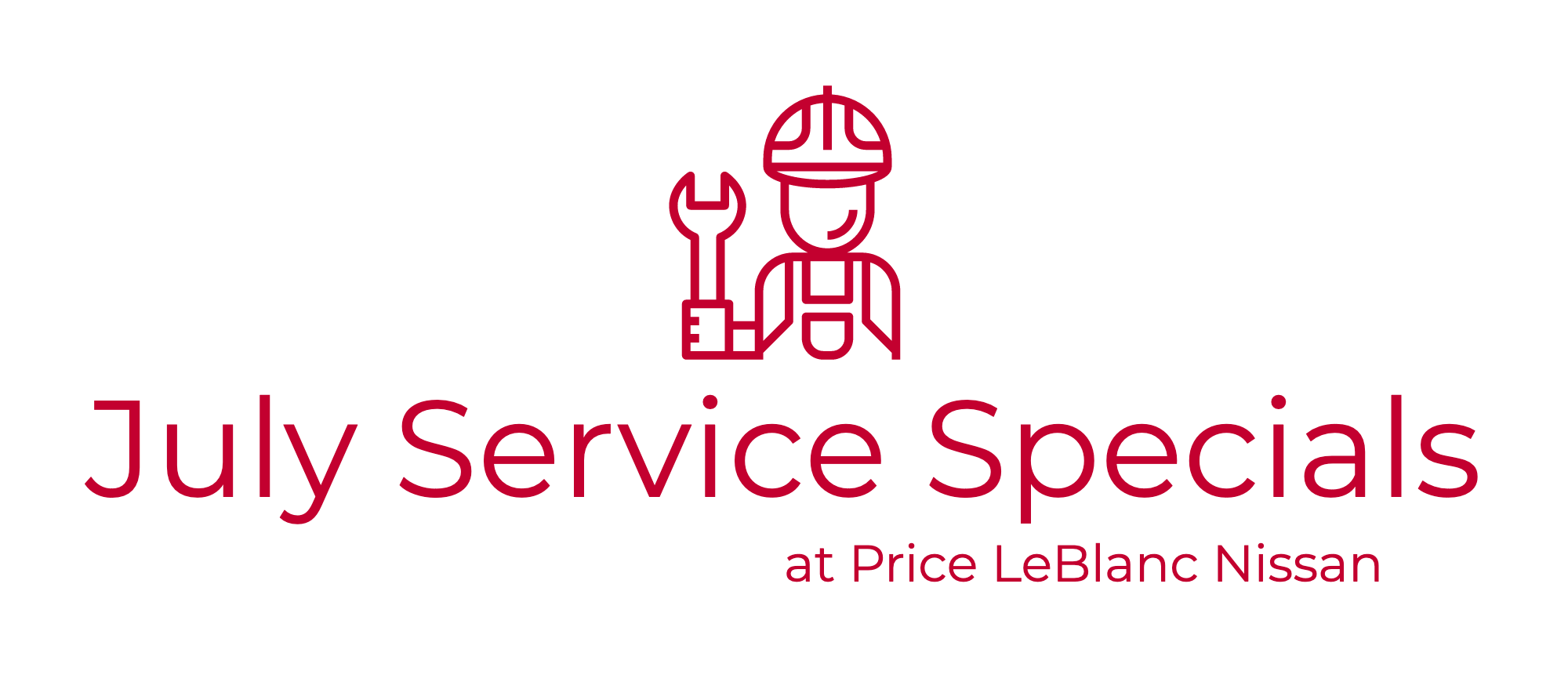 If your brakes, your oil, or battery are giving you trouble before your next trip, you'll definitely be saving this month! Before you
schedule service online
with us, be sure to take advantage of these coupons. This month's service specials are as follows:
Brake Service $30 Off*
Computerized Wheel Alignment $89.95**
Battery Replacement and Installation $25 Off***
Variable Discount****
Manufacturer Recommended Services 10% Off*****
Set of 4 New Tires $70 Off******
Tire Rotation & Balance $49.95********
Oil Change $39.95********
We hope you're having a fantastic summer here in Gonzales, LA, and that your travels beyond are great too! You can schedule a service appointment with us
here
or learn more about our service specials
here
. In the meantime, you can also contact us
here
with any questions.
*Offer applies to Value Advantage® Brake Pads and Rotors. Additional parts and services extra. Certain restrictions apply. See dealer for details. Price and offer availability may vary by model. Taxes and fees additional. No cash value. Must present offer to redeem. May not be combined with other offers. Nissan vehicles only. Void where prohibited. NOTE: TITAN AND ARMADA SLIGHTLY HIGHER. Expires 9/26/19
**Certain restrictions apply. See dealer for details. Price and offer availability may vary by model. Taxes and fees additional. No cash value. Must present offer to redeem. May not be combined with other offers. Nissan vehicles only. Void where prohibited. 4 WHEEL ALIGNMENT. DOES NOT INCLUDE ANY SUSPENSION MODIFICATIONS. Expires 9/26/19
***Genuine Nissan Battery only. See warranty information booklet for battery limited warranty details. Certain restrictions apply. See dealer for details. Price and offer availability may vary by model. Taxes and fees additional. No cash value. Must present offer to redeem. May not be combined with other offers. Nissan vehicles only. Void where prohibited. NOTE: INCLUDES COMPLETE STARTING AND CHARGING SYSTEM TEST. Expires 9/26/19
****Offer only applies to services that include labor. Discount based on individual dealer's pricing guide. Certain restrictions apply. See dealer for details. Price and offer availability may vary by model. Taxes and fees additional. No cash value. Must present offer to redeem. May not be combined with other offers. Nissan vehicles only. Void where prohibited. Expires 9/26/19
*****Offer only applies to Manufacturer's Recommended Scheduled Maintenance services. See Owner's Manual for details. Certain restrictions apply. See dealer for details. Price and offer availability may vary by model. Taxes and fees additional. No cash value. Must present offer to redeem. May not be combined with other offers. Nissan vehicles only. Void where prohibited. Expires 9/26/19
******Certain restrictions apply. Offer eligible on Bridgestone and Michelin OEM, OEA, and WIN tires only. See dealer for details. Void where prohibited. Expires 9/26/19
*******Certain restrictions apply. See dealer for details. Price and offer availability may vary by model. Taxes and fees additional. No cash value. Must present offer to redeem. May not be combined with other offers. Nissan vehicles only. Void where prohibited. Expires 9/26/19
********Using Genuine Nissan Oil Filter and multigrade oil up to specification. Genuine Ester Engine Oil or synthetic oil may be available at additional cost. Certain restrictions apply. See dealer for details. Price and offer availability may vary by model. Taxes and fees additional. No cash value. Must present offer to redeem. May not be combined with other offers. Nissan vehicles only. Void where prohibited. UP TO 5 QTS GENUINE NISSAN 5W-30 OIL Expires 9/26/19