If you've ever stopped by our dealership in Gonzales, LA, you'll know that we always encourage customers to leave us online reviews for Price LeBlanc Nissan. You might ask yourself why, though, and we think that's a perfectly valid question! In the blog post below, learn exactly how and why we need your feedback at Price LeBlanc Nissan!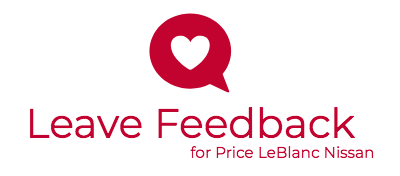 Simply put, our dealership wouldn't be as great as it is today without feedback from customers just like you. If we're doing an amazing job, we want to know why so that we can be even better, and while we don't want to do a bad job, telling us that we need to get in shape on an aspect of the dealership is valuable input! If you want to leave us a review to help with these, we'd recommend doing so on one of the following sites:
No matter what you thought of us on your recent visit, we still want to hear from you so that you can come back even more impressed at our improvements! You can learn more about us
here
or browse our latest inventory
here
. If you have questions about feedback or anything else, you can also contact us
here
.